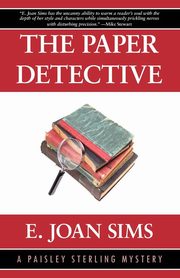 The Paper Detective
A Paisley Sterling Mystery
Wersja papierowa
Wydawnictwo: Wildside Press
ISBN:

978-08-09-55620-5


Format:

14.0x21.6cm


Liczba stron:

260


Wydanie:

2005 r.


Język: angielski

Dostępność:

dostępny




Mystery novelist Paisley Sterling takes time off to enjoy the holidays only to be interrupted by her agent. Seems like Leonard Paisley, the fictitious detective who is supposed to be writing her mystery novels, is required to make a personal appearance. Paisley would love to tell the world that "Leonard" is a fake and she does all the hard work, but her agent insists they keep up with the sham until her career is assured. "Leonard" has to be found.

Paisley seeks the advice of her proper southern belle mother and hip college age daughter, and then goes out in search of the man she believes will be the perfect Leonard. When a snow storm gets in the way, she finds herself marooned in a remote log cabin with a man who is perfect in many ways - something Paisley didn't exactly expect.Burt Atkins reluctantly agrees to be Leonard for a day and the command performance goes off without a hitch - until Burt becomes a target for murder.

Determined to discover why someone would want to kill Leonard -- or Burt, Paisley begins to unravel yet another strange puzzle and ends up facing one of the deadliest foes she has ever encountered.